Fall is my favorite time of year in Colorado. Not for the changing leaves but because of the abundance of southwestern red and green chile peppers!
Each year, I roast and freeze bushels of  red and green chile peppers (mild, medium and hot) and then use them in breakfast, lunch and dinner recipes – Anaheims, Hatch, Big Jims, Poblanos, Dynamites and more. Who knew a guy born in Pennsylvania would develop such a major addiction to the West's iconic vegetable?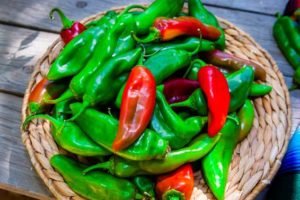 Here's a favorite recipe – my Green Chile Pepper Casserole
4 eggs
1 ½ cups milk
2 T flour
½ t pepper
¼ t salt
2 ½ or more cups roasted red or green chile peppers  cut in big'ish pieces
10+ yellow or white corn tortillas
4 cups shredded cheddar (1#)
3 cups Monterey Jack and/or pepper jack
Options: You can add cooked shredded chicken, turkey, chorizo/pork,  beef and/or black beans to layers if desired
Steps:
Preheat oven to 350
Lightly grease 9 x 13 glass baking dish or round 2-quart soufflé pan
Beat first 5 ingredients together in medium bowl

Optional in mixture: cumin, cilantro, hot sauce

Cover bottom of dish with red and green chile peppers
Cover with cheese then layer of corn tortillas
Layer 2 – chiles, cheese, options, tortillas
Layer 3 – chiles, cheese, options, tortillas
Cover top layer with chiles and cheese
Pour egg mixture over everything
LET STAND 30 MINUTES or more

Can be prepared up to one day ahead. Cover and refrigerate

Bake 45 minutes until slightly puffed in center and golden brown on edges
Cool 20 minutes. Serve with salsa, sour cream, crema and guacamole on the side
Customize: Make half of the casserole with hot chiles and the other half mild for pot-lucks. You can also cut cheese in half if desired – it still tastes great.
Your marketing communications program should be like these fiery chiles – it needs to be bright, sharp, spicy, cut through the mundane and always hit the spot in order to succeed.
So try this green chile pepper recipe and remember we're the firm to heat up your marketing and communications program.
Comer Con Gusto (enjoy)!
Richard Abels